The 10 Principles of Maniphesto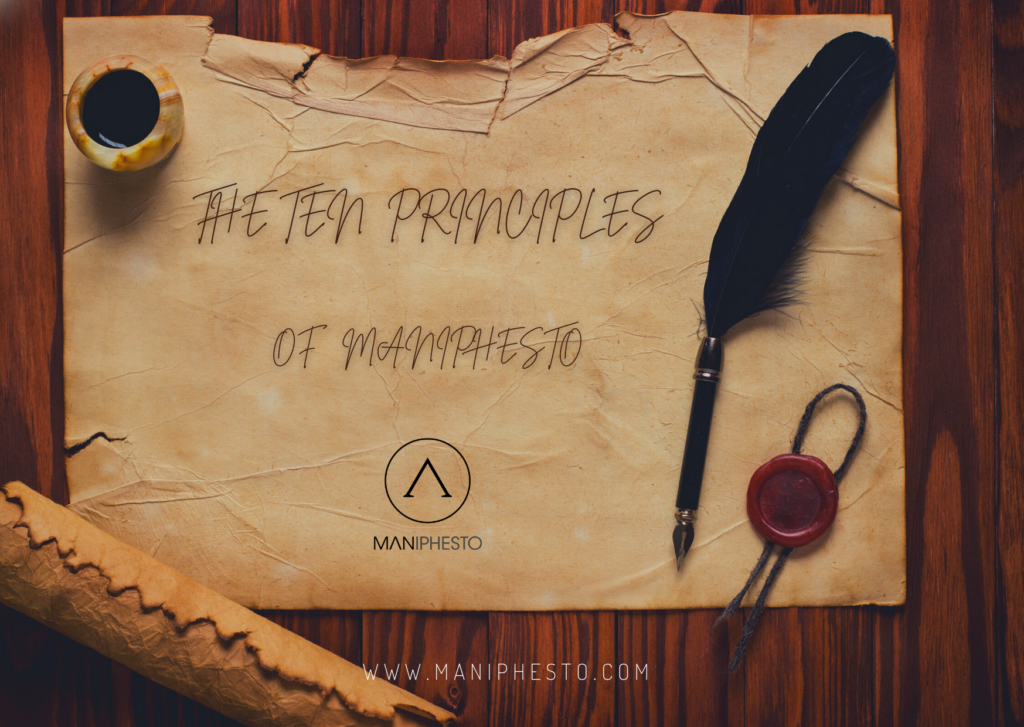 1. Know Thyself

Individual commitment and accountability to regular personal, communal and embodied practice is essential. Deepening practice involves engagement with ancient wisdom and should be driven by a desire to seek truth, love and beauty.
The journey towards sexual mastery entails directing desire towards meaningful creation. We support men in establishing a lifelong commitment to one woman as a container for the development of masculine leadership and integrated personhood.
3. Dialectics
We grow in discernment by engaging in dialectical discussion.This enables unity and multiplicity to co-exist and moves members towards true individuality. We respect the man and challenge the idea. We admire each other's gifts. We approach disagreement with curiosity and mutual respect.
4. Direct Communication
Our collaboration is built on clear and direct communication with complete integrity. Agreements are honoured and personal disagreements are dealt with directly and immediately. This enables the building of friendships based on trust, honesty and loyalty.
5. Proactivity
Taking responsibility for making things better rather than blaming others will help us learn and grow dramatically.
6. Conciliarity
Working as a council of peers brings Hierarchy and Do-ocracy together. We are co-creative by design, providing the platform for men to engage and contribute actively.
7. Mutual Commitment
Women give birth to boys, but men are made through journeying alongside other men. We commit to each other's success in a fellowship to guide and mirror each other to greater maturity.
8. Virtuous Patriarchy
The paradigm shift to an increasingly digital society requires visionary, strong and responsible men, grounded on a strong foundation, to step up in formulating new paradigmatic principles which foster lives of freedom, integration, meaning and well-being.
9. Action
Joint action in the world is the optimal path to betterment for men. Working together towards shared goals for the greater good leads to a life of meaning, purpose and bonds of friendship.
10. Open Source
We share our best work, in a true spirit of collaboration, across borders and cultures. Competition within a framework of transparency and fair play empowers us to give more.
10. Holistic
Our work addresses man as a whole, not as a collection of parts. Man is an inseparable unity of body, mind, and spirit.