MANiphesto is a community of men who understand that personal growth requires taking responsibility.
Our work is centered around the Core network of men's groups. These groups provide members with tools for creating a personal vision, setting goals and a brotherhood for holding each other accountable.
Our HQ is situated at the top of the "South Funen Alps" of Denmark where we host retreats and training away from the rush of big city life.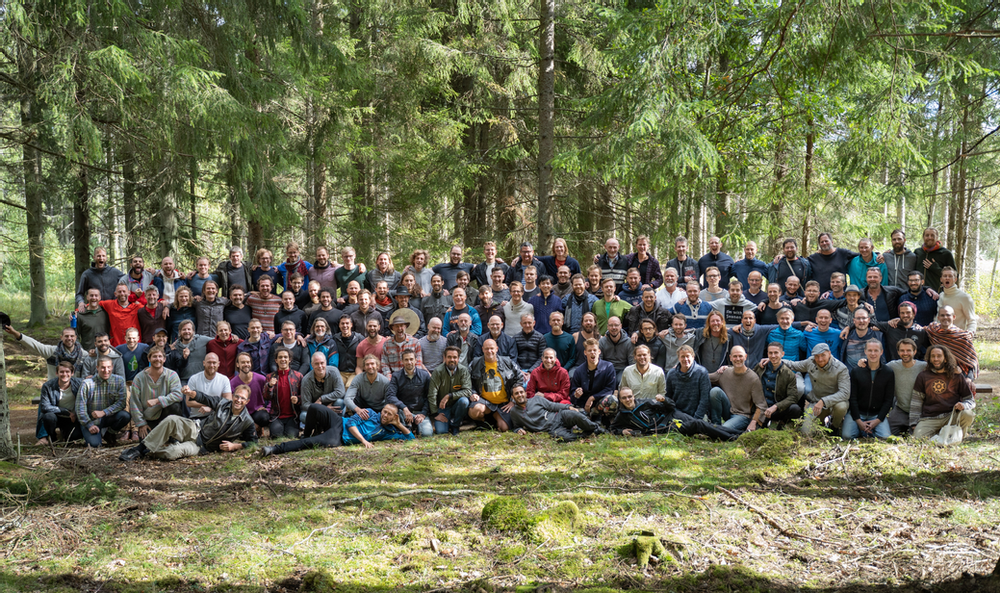 Maniphesto was formed by three men, a philosopher, a political scientist gone renegade, and a professional dancer. Seeing the increasing turmoil around them regarding manhood and masculinity, they decided to do something about it. In 2016 they invited the most inspiring men in their respective networks to two "Men's Research Weekends" in central Stockholm and Copenhagen with the aim of expanding their understanding and embodiment of how they they could take responsibility as men.
Through the experience, they discovered the beauty of a masculine fellowship that is aimed towards the good, the true and the beautiful. Nothing could be more transformative for a man's life.
As they initiated the first Nordic Mens Gathering in 2017, their connection across the Atlantic with Canadian Psychologist Jordan Peterson was a major source of inspiration. Peterson provided a framework and language for re-evaluating the mythological and religious foundation of our society and especially the Chrisian faith. Maniphesto was strongly influenced by the atheist, anti-Christian culture it was founded in, and also regularly engaged with ideas and practices of esotericsm, post modernist philosophies as well as various new age embodiment approaches.
In 2018, following his exploration of the ideas of Jordan Peterson and returning to his own roots, the leader of Maniphesto, Paul, had an experience of God which reconnected him to the basics of life. This led to him converting to Orthodox Christianity in 2019.  He found in Orthodoxy a complete anthropology and cosmology which not only had formed the basis of the beliefs we have today about gender and manhood, but also perfectly described the challenges we are facing as well as their solutions.
Today, Maniphesto is a broad international network and a close brotherhood of friends. Coordinated at a daily level by Paul, it comprises a network of 550+ men and hundreds of initiatives around the world, engaged in realising the Maniphesto mission of "Restoring Man", based on the 10 Principles of Maniphesto. Paul moderates several forums and runs formal and informal events and training programs online and in person.  Maniphesto Core is a subscription based network of online men's groups, dedicated to supporting men in focusing their dreams into a sense of purpose, accountability and direction.
If you would like to engage with us, then you can sign up for our email mailing list, or join us in Maniphesto Core.
The 10 Principles of Maniphesto
Hierarchy and Fatherhood are indispensably woven into all life and reality. Virtuous patriarchy is essential to human thriving.
Commitment to regular practice such as prayer is essential. Deepening practice involves engagement with religious tradition.
We strive to say what we will do and always to do what we say.
Women give birth to boys, but men are made through journeying alongside other men. Strong masculine friendship naturally leads to maturity.
Growth in men is accompanied with increasing responsibility – for themselves and others, meaning taking on the burden of leadership.
Masculinity is the qualities which are admired the most in men. Our fellowship aims to build masculine men.
We support men in establishing a lifelong commitment to one woman as a container for personal growth.
Men take personal responsibility for making things better – starting with themselves.
Working together towards shared goals for the greater good leads to a life of meaning, purpose and bonds of friendship.
Our work addresses man as a whole, not as a collection of parts. Man is an inseparable unity of body, mind, and spirit.
You can read more about our work with the 10 Principles on our Blog