European Men's Gathering in the news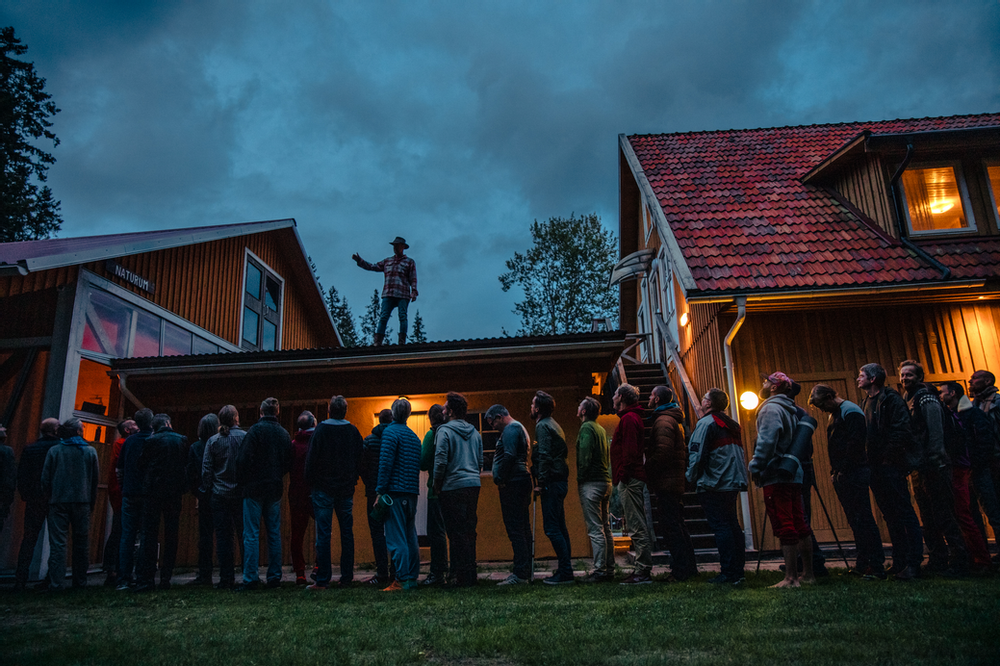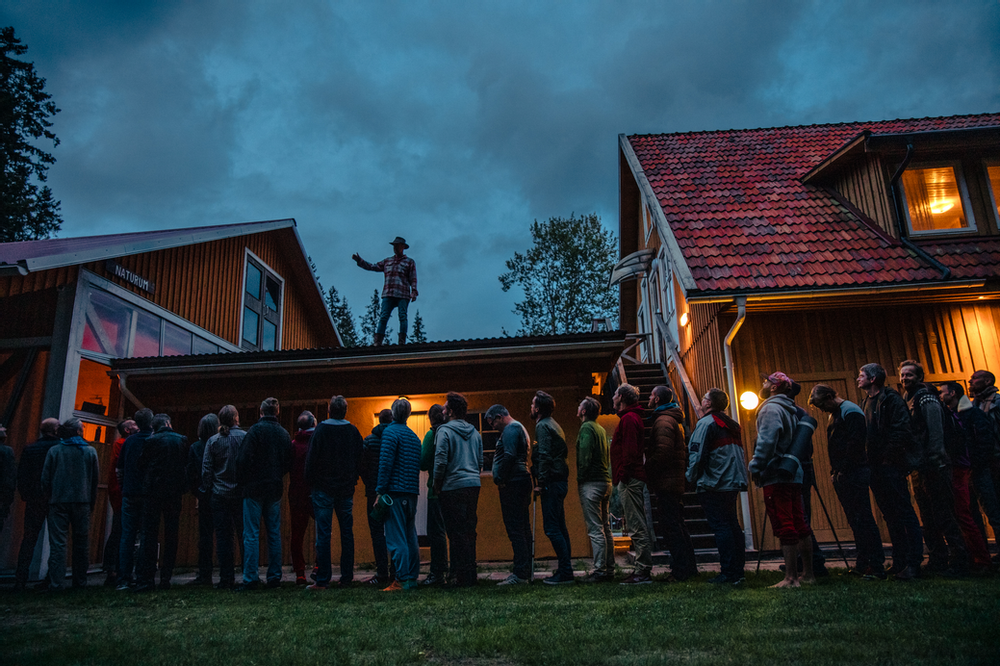 Here are two great articles on the European Men's Gathering. One is written by Benjamin Krasnik and Lars Henriksen at the Danish newspaper Kristeligt Dagblad. The other is written by Emanuel Sidea at the Swedish Fokus. Now that the work for the 2019 gathering is approaching with full speed, articles like these give us invaluable guidance in how we can make the event even more valuable. We applaud these men sharing their experience of the 2018 European Men's Gathering and hope you will enjoy their articles as much as we did!
,,Rigtige mænd må gerne græde – med hinanden
De ældste forrest og yngste bagerst lyder beskeden fra manden på taget. Under ham står 140 mænd fra 22 lande på en lang række. Det er første aften på "European Men's Gathering" i Mundekulla – et retrætecenter i en skov i Småland. Isoleret fra omverdenens larm og støj i tryghed under træernes beskyttende kroner har mændene dedikeret tre dage til at komme nærmere et svar på, hvad det vil sige at være mand i dag. Her ingen kvinder, ingen børn, ingen krav fra chefer.
Næsten bagerst i køen står den 27-årige brite Matt Jones. Han arbejder i en bank i London og har hver dag svært ved at forbinde sig rigtigt til andre mænd, fortæller han. Forrest står amerikanskfødte David Rice på 70 år. Han har tidligere oplevet, hvor livsforandrende mandegruppe-arbejde kan være, for det hjælper ham til at forstå og stole på andre mænd. På det flade tag over mændene står Arne Rubinstein, en australsk læge, der siden 1990'erne har arbejdet med at hjælpe drenge og mænd med at finde deres rolle i livet. Han råber ud over den forventningsfulde forsamling: "Vi ærer hermed de ældste ved at placere dem forrest."
At ære de ældste er en vigtig markering, man ifølge Arne Rubinstein har glemt. De ældre er nemlig erfarne og vise og bør i højere grad respekteres og lyttes til, påpeger den midaldrende leder af retræten med stærk australsk accent, og brun ruskindshat på hovedet. Han præsenterer hermed et centralt tema for weekenden – rollemodeller og overgangsritualer. Et andet tema bliver afsløret kort efter, da mændene træder ind i den store sal og får vasket fødderne af medhjælpere. De reciterer Jesu ord fra Johannesevangeliet, da han vaskede disciplenes bare tæer: "Hvad jeg gør, fatter du ikke nu, men senere skal du forstå det."
Meget bliver senere forstået i skoven. Blandt andet, hvordan man skal tjene fællesskabet bedre. Det kræver mod, påpeges det. Mod til at se sin frygt og følelser i øjnene. I løbet af de knap tre dage i Mundekulla bliver mændenes mod testet på forskellige måder. De deltager i intellektuelle debatter om arketyper og rollemodeller. Mændene giver sig fuldt ud med bare maver i energikrævende workshops. Og de krænger sjælen ud i hudløst ærlige delinger i små grupper. I skoven i Småland bliver der både fældet tårer, brølet, grinet og krammet.
Read the full article in Danish here: https://www.kristeligt-dagblad.dk/liv-sjael/rigtige-maend-maa-gerne-graede-med-hinanden (Paywall)
,,Rapport från ett mansläger
Ett gäng barbröstade och krigsmålade män stiger in i lokalen och tar till fånga fyra män, bland andra Alexander Bard. Ett sus av förvåning sprider sig bland de resterande cirka 140 männen i varierande ålder som ser på hur sällskapet förs bort.
Sedan får alla ögonbindlar pådragna av de krigsmålade männen. Varför känns ännu oklart när alla, i tystnad, får sitta ner och vänta. Minuterna går. En kvart hinner passera.
Egentligen får ingen säga något, men tystnaden bryts av en ensam röst.
– Ska vi bara låta dem ta våra äldre, utbrister någon i samlingslokalen, i den småländska skogen en mil utanför Emmaboda.
Snart paras vi ihop baserat på ålder; jag med en smal, läspande 33-åring från Valencia. Innan vi belagts med tystnadsplikt berättade spanjoren att han bland annat sysslar med porrteori och ska tala på en internationell porrfestival inom kort. Branschens forna storstjärna Jenna Jameson ska också medverka, skrattar killen i stålbågade glasögon.
Spanjoren, som egentligen ser ut att vara en typisk porrfestivalbesökare, förklarar att hjärnan inte kan skilja på porr och verklighet och därför är porr farligt. Han är alltså negativt inställd och är av åsikten att män bör låta bli porr. Mer hinner han inte säga förrän vi förses med ögonbindel.
Under tystnad får vi lyssna på skum didgeridoo i vad som känns som två–tre timmar. Man kan tappa förståndet för mindre, men ärligt talat har manslägret sänkt ens tröskel. Mycket som annars hade ifrågasatts ter sig rimligt i en omgivning av enbart män.
De senaste två dygnen har män i åldrarna 20 till 70 samlats i total frånvaro av kvinnor. Efter ett dygn spreds dock ryktet om att det i köket fanns en kvinna som lagade mat – men få hade faktiskt sett henne. Männen som står för matservering, som fått rabatterad deltagaravgift, kallas för volontärer och leds av en homosexuell britt – det är gaymännens roll, det är i varje fall så han beskrivs av andra som varit på lägret förr.
Till slut förs vi ut i lördagsnatten i skogen och får en träbit i handen. Framför oss hägrar en slags symbolisk vandring, där uppgiften framgår tydligt: att rädda Alexander Bard och de andra äldre.
Ritualen saknar inte kopplingar till »Sagan om ringen« – inte bara ska vi rädda andra utan också finna oss själva, samtidigt som vi inte tappar träbiten vi har fått i handen.
Till mitt stöd har jag en smal porrteoretiker i stålbågade glasögon, tillsammans ska vi finna vägen framåt. Samme man famlar just nu efter min hand och när han finner min arm vägrar han sedan att släppa taget om mig.
Efter att ha letts med små steg framåt når vi en portal i trä som byggts i skogen, där får vi ta av oss ögonbindeln. Sedan stiger vi nedför stentrappor och vidare utför en stig kantad av tända ljus och börjar sedan långsamt gå framåt.
Read the full article in Swedish here: https://www.fokus.se/2018/11/rapport-fran-ett-manslager/