Press Release – European Men's Gathering coming to Denmark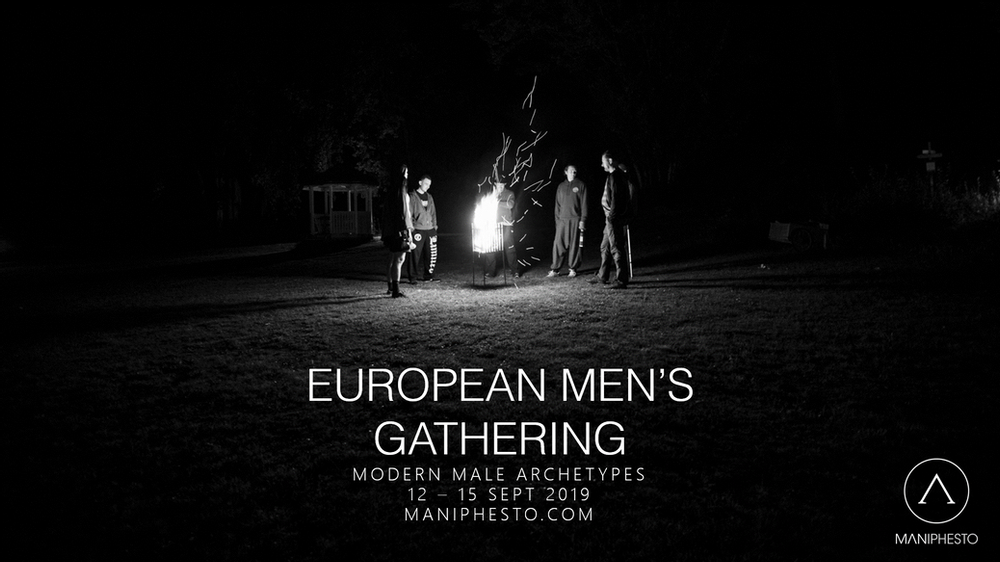 Scroll down for a danish version of this press release.
This September, the Danish countryside town Mariager will host the European Men's Gathering, a gathering of hundreds of men collectively investigating the question: "What does it mean to be a man today?"
After the chaos of #metoo, more and more men are finding the need to ask such basic questions. With changing gender roles and increasing uncertainty of gender identity in the workplace, relationships and sexuality, we are seeing men gathering together to try and find answers. The European Men's Gathering is likely the largest of the thousands of new initiatives, events and communities popping up around Europe, as men struggle to come to terms with the new gender landscape.
Maniphesto, the organisation behind the European Men's Gathering, brings together over 400 men with the common purpose of doing "men's work". Co-founder Paul Lloyd Robson describes Maniphesto as "an informal, collaborative, open-source network of men who want to step up and take responsibility for themselves, their communities and society – with this as our main annual gathering."
The four day event, held in Mariager, will feature a mix of lectures, parallel workshops, panels and open discussion salons over four days. Events on the agenda range from physical workshops on self defence, working with anger or setting boundaries, to lectures and discussions on political, philosophical and personal issues. The central theme for the 2019 gathering will be "Modern Male Archetypes".
One facilitator and a leading figure in the Swedish Maniphesto community, Philosopher and Sweden's Got Talent judge, Alexander Bard, finds the theme of Male Archetypes particularly relevant as a tool for the exploration of self for men: "The exploration of what it means to be a man is first and foremost the journey toward what kind of man one is. What are my specific gifts and talents? How do I best contribute? How do I love and admire my brothers for having gifts and talents that I don't have myself? How do I become a collaborator rather than the competitor society has mistakenly convinced me that I must be? And how do I co-create my band of brothers?"
Recent psychological research shows that more and more men are facing a "Meaning crisis" on the individual level and the broader society is facing a masculinity crisis. A well-known figure in the Danish discussion around gender and masculinity, Tomas Friis has been running men's groups and coaching men for 15 years. Tomas has been a part of Maniphesto since its inception and points to symptoms such as an epidemic of stress, failing relationships and broken families, a sense of alienation and a host of social problems primarily faced by men as the root causes of the growth in men's work initiatives.
Tomas points out: "The paradox of men's work is, that growing and maturing healthy as a man is an individual responsibility; No one can do it for you. On the other hand, no man can do it alone – it requires the collective of many men."
Certainly the growth in men's work is a trend which many others are also observing. Ole Bjerg, Associate Professor at Copenhagen Business School will be hosting a discussion salon at the event on Jordan Peterson and the debate about masculinity. "Over the past 3-4 decades, the academic discourse on men and women has been dominated by more and more extreme versions of so-called gender studies. Today we are, however, seeing a countermovement of new ideas emerging that recognize men and women as equal but different and masculinity and femininity as complementary rather than adversarial life forces. I am looking forward to developing these great ideas with great men at the 2019 EMG."
The European Men's Gathering 2019 will be held at Mariager in Jutland from the 12th – 15th September 2019. More information and tickets can be found on www.maniphesto.com/emg.
____________________________________________________________________________
Additional Resources:
A video from the 2018 EMG can be viewed here.
Article in KD from 2018 here (paywall)
For further enquiries, contact Paul Lloyd Robson, +45 53822832, pr@paulrobson.dk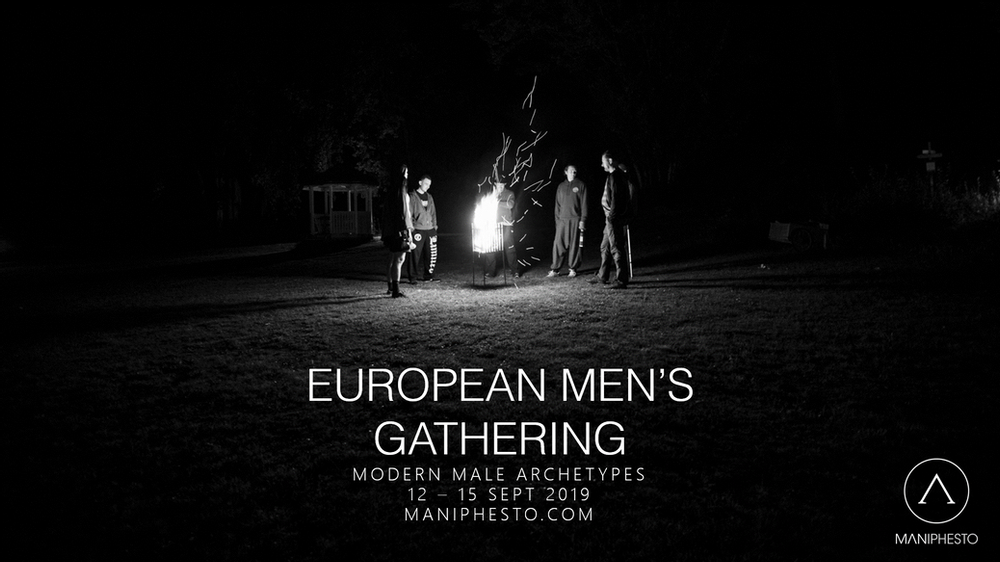 European Men's Gathering kommer til Danmark
Mariagerfjord bliver i september vært for European Men's Gathering 2019; hundredvis af mænd samles for at undersøge, hvad det vil sige at være en mand i dag.
I efterdønningerne af #metoo stiller flere og flere mænd spørgsmålstegn ved, hvad det vil sige at være en mand i samfundet i dag. Med skiftende kønsroller og tiltagende usikkerhed omkring kønsidentitet bliver det mere presserende for mænd at mødes for at finde svar. European Men's Gathering er muligvis det største af disse nye tiltag i Europa, hvor mænd søger at forholde sig til og være med til at definere det nye kønslandskab.
Maniphesto, organisationen bag European Men's Gathering, samler over 400 mænd med det fælles formål at lave "mandearbejde". Medstifter Paul Lloyd Robson beskriver Maniphesto som et "uformelt, samarbejdende, open-source netværk af mænd, der ønsker at tage ansvar for sig selv, deres lokalsamfund og samfundet som helhed – med European Men's Gathering som vores årlige samlingssted."
European Men's Gathering 2019 vil foregå over fire dage ved Mariagerfjord med en blanding af forelæsninger, workshops, paneldebatter og åbne diskussions-saloner med fokus på fællesskab og at skabe relationer mellem mænd. Der vil være alt fra fysiske workshops om blandt andet selvforsvar, yoga og at sætte grænser, til panel debatter og diskussioner om politiske, filosofiske og personlige vinkler på mandearbejdet. Temaet for 2019 bliver "Moderne Mandlige Arketyper".
Alexander Bard, der er filosof og dommer i tv-showet "Sweden's Got Talent", er en ledende figur i det svenske Maniphesto community. Han mener, at temaet om mandlige arketyper er særlig relevant for mændenes selvudvikling:
"Udforskningen af hvad det vil sige at være en mand er først og fremmest en rejse hen imod hvilken type mand man er. Hvad er mine specifikke gaver og talenter? Hvordan kan jeg bedst bidrage? Hvordan elsker og beundrer jeg de af mine brødres talenter, som jeg ikke selv har? Hvordan bliver jeg den medspiller snarere end den konkurrent, som samfundet helt misforstået har bildt mig ind, at jeg skal være? Og hvordan samskaber jeg et stærkt broderskab?
Ny forskning viser, at flere og flere mænd oplever meningsløshed på det individuelle plan, mens det bredere samfund står over for en maskulinitetskrise. En velkendt debattør i den danske kønsdiskussion er Tomas Friis, der har lavet mandegrupper og coachet mænd i 15 år. Tomas har været del af Maniphesto siden begyndelsen og peger på flere sociale problemer, der primært rammer mænd, som grunden til, at der er fremgang i initiativer som European Men's Gathering. Det inkluderer en epidemi af stress, fejlslagne forhold, ødelagte familier og fremmedgørelse.
"Paradokset omkring mandearbejde er, at det at vokse og modnes som mand er et individuelt ansvar; ingen mand kan gøre det for dig. På den anden side kan ingen mand gøre det alene – det kræver en gruppe af mange mænd, der støtter hinanden," pointerer Tomas Friis.
Væksten inden for mandearbejde er en trend som lektor ved Copenhagen Business School Ole Bjerg genkender. Til årets gathering er han vært for en diskussion om Jordan Peterson og debatten omkring maskulinitet.
"De seneste 3-4 årtier har den akademiske diskurs omkring mænd og kvinder været domineret af mere og mere ekstreme versioner af de såkaldte kønsstudier. I dag ser vi dog en modbevægelse af nye ideer opstå, der anerkender mænd og kvinder som lige – men forskellige. Maskulinitet og femininitet bliver set som komplimentære snarere end modarbejdende kræfter. Jeg ser frem til at udvikle på disse ideer sammen med en gruppe fantastiske mænd til European Men's Gathering 2019," siger Ole Bjerg.
European Men's Gathering 2019 vil blive afholdt i Mariager i Jylland fra d. 12. – 15. september 2019. Yderligere information og billetter kan findes på www.maniphesto.com/emg.
____________________________________________________________________________
Yderligere ressourcer:
Video fra European Men's Gathering 2018 kan ses her.
Artikel i Kristeligt Dagblad fra 2018 kan læses her (kræver log-in)
Billeder fra sidste års European Men's Gathering til publiceringsbrug kan findes her:
For spørgsmål eller interview-forespørgsler med organisatorer eller facilitatorer af European Men's Gathering, kontakt Paul Lloyd Robson, +45 53822832, pr@paulrobson.dk